I know I just received this product like less than 4 weeks ago but I guess I'm going to break my rule and do this review today as I'm utterly shook with its capability to remove (for lack of better words) the most-difficult-to-remove makeup item that I have in my stash. Sure, I don't have much point makeup in my collection but girl! It stains so much that only the most expensive cleanser (best of the best oil cleanser I've tried so far!) I have in my skincare stash can fully remove it at one go and this recently launched cleanser from in-house brand of Althea; latest addition to their Althea Pore Essentials line actually beats the aforementioned cleanser as it removes the stain much quicker but that's not all!
... but first! Let's go to basic details of this cleanser.
Althea Pore Purifying Serum Cleanser
Product Description:
A purifying cleanser with a serum-like formula
Removes makeup, dirt and oil without drying out the skin
Balances the pH levels of the skin to ensure it stays healthy
Ingredients highlight:
Mint leaf extract - Cools down the skin and soothes irritations
Jojoba seed oil - Deeply moisturizes any dryness without feeling heavy
Tea tree leaf extract - Has antibacterial properties that purify the skin
How to Use:
Dampen the skin and apply on a small amount. Gently massage onto the skin in circular motions for 5-10 seconds before rinsing off with water.
Ingredients:
Water, Peg-7 Glyceryl Cocoate, Cyclomethicone, Isononyl Isononanoate, Dipropylene Glycol, 1,2-Hexanediol, Melaleuca Alternifolia (Tea Tree) Leaf Extract, Simmondsia Chinensis (Jojoba) Seed Oil, Mentha Arvensis Leaf Extract, Glycerin, Citric Acid, Hydroxyacetophenone, Disodium EDTA, Ethylhexylglycerin, Sodium Citrate, Butylene Glycol, Fragrance
Now, let's talk about the packaging!
This cleanser doesn't come in a box and was wrapped with plastic instead. The bottle is like a regular plastic bottle; kind of thin and squeezable and it's in that pretty turquoise colour that you guys know I am a fan of; a code colour that I believe is associated to lots of pore-focusing skincare products. Don't believe me? I've used bunch of sheet masks packed in turquoise-coloured sachets.
Check them out to see what are their targeted concerns!
There's no English product description printed on the product itself as everything is in Korean but rest assured as you can find all the information you need on Althea website which I've linked below.
The product expiry date is printed at the bottom of the bottle and as you can see in the above photo and the format is YYYYMMDD. This cleanser came with such basic cap for product dispensing which is fine but I've got a better option I can go for.
You guys remembered that cleansing oil I've got early last year? I've finished it I think around November but I was still hoarding my 6-month empties up until recently so I'm glad I can somehow reuse part of the packaging so look at how snuggly the pump fits that Althea facial cleanser? Works pretty much the same!
APPLICATION
I have to admit that at this point of time, I actually tried removing those 4 makeup items by using 4 different first cleansers and makeup removers as they're the toughest products to remove that I currently have in my makeup stash (except cushion foundation); (on hand) mascara, matte liquid lipstick, eye tint (you guys know when product's named 'tint', it's gonna last for a while) and one of few matte cushion foundations that I'm rotating these days. Only 2 out 4 cleansers that actually capable of removing that eye tint, you guys!
After using the cleanser several times, how I'd prefer using it would be like a cleansing oil where I dispense like 4 pumps on to my palm and then massage it all over my facial area; first the cheeks, then the nose, up to forehead, down to lower cheeks area to my neck then up again to my eyes. I usually take one pump just for my lip area to melt down the liquid lipstick and possibly dead skin cells. This step usually took me about 2 minutes.
When everything's melted off, I'd wipe all of it with facial tissue or just thin air-laid cotton pads; whichever close to me. As you can see, none of the product left on skin!
I think this cleanser also can be used as second cleanser although there's some sort of film that I feel after rinsing it off. When mixed with water, it doesn't emulsify or anything; just thicker in consistency but I gotta say I'm loving the minty cooling effect it gives while I'm washing my face with it.
Tapping off all the excess water with clean towel or just pat all the water into my skin; depends how in the rush I am at that skincare routine then proceed with my exfoliating toner or first treatment essence or serum of the day. Even prior toning step, I don't feel my skin feeling dry, taut or anything; thanks to Jojoba oil and glycerin I'm guessing. Just fresh and ready for the next step!
I think everyone can enjoy this simple yet powerful first cleanser unless you can't tolerate minty sensation because I know some sensitive skin people avoid this but there's also the tea tree extracts to calm the skin in it unless you can't have tea tree (bija-preferring people) in your skincare products. Either way, do patch test to see how your skin react to any product and proceed with caution.
Overall, I do like this cleanser and already ordered my third bottle for it - Althea is giving away cute stickers with every
Althea Exclusive
purchase! Go check it out!
This product is currently available to purchase on Althea; linked down below and if you're new to Althea and planning to purchase more than RM150, use my link (
click here!
) for
20% discount off your first purchase!
I guess that's all for now and do let me know your thoughts on this serum cleanser by leaving comments down below. I'll be seeing you guys on my next post. Annyeong~
||| SHOP THE POST |||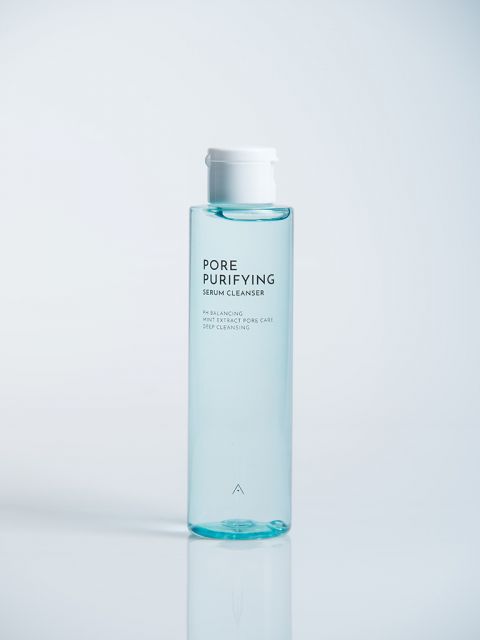 ||| Official links |||
Website | http://my.althea.kr/
Facebook | http://www.facebook.com/altheamalaysia
Instagram | http://www.instagram.com/altheakorea
Disclaimer:
Links provided are non-affiliated. This product was sent to me for review purposes and all opinions here are based on my personal use of the products.