When it comes to body fragrance, I have many types of perfumes; from the lightest body mists to the thickest perfume oils and most of my fragrances are vanilla-scented if not floral except Jasmine which I cannot tolerate no matter what form the flower comes in; teas, scented candles even air-freshener therefore when Althea announced their first product for their body care line; Stay Fresh would be a body mist made off mixed scents of fruit and floral, I'm all in! Introducing the new Althea Stay Fresh Body Sparkling Mist, a delightful concoction of floral and fruity notes indeed but first, let's go to basic details of this perfume.
Althea Stay Fresh Body Sparkling Mist
Product Description:
Althea x Titi Kamal collaboration fragrance
A lightweight feminine scented body mist
Has fruity and floral notes featuring orange, peach and rose
Ingredients highlight:
Damask Rose water - keeps the skin hydrated
Orange Flower Extract - Refreshes the senses
Elder flower extract - Cools and soothes the skin while giving out feminine scent.
How to Use:
Spritz all over the body in a light layer before you head out the door. Take with you in your handbag or purse and use as fits your lifestyle.
Ingredients:
Alcohol, Water, Glycerin, Fragrance, Pentylene Glycol, PEG-40 Hydrogenated Castor Oil, Rosa Damascena Flower Water, Butylene Glycol, 1,2-Hexanediol, Sambucus Nigra Flower Extract, Citrus Aurantium Dulcis (Orange) Flower Extract, Magnolia Liliflora Flower Extract, Plumeria Rubra Flower Extract, Lilium Tigrinum Extract, Ethylhexylglycerin
Now, let's talk about the packaging!


This perfume didn't come in a box and was wrapped with plastic instead. The bottle is like a regular plastic bottle with that cheap-looking pump but to me, it's fine as long as it's working. With rose being the base note for this body mist hence the brand went with roses being illustrated on the bottle itself. The pink hues are indeed cute and looks so pretty next to the
serum facial cleanser that Althea sent me.
There's no English product description printed on the product itself as everything is in Korean but rest assured as you can find all the information you need on Althea website which I've linked below.
The product expiry date is printed at the bottom of the bottle and as you can see in the above photo and the format is YYYYMMDD.
APPLICATION
I'm pretty sure you guys know how to use a body mist but if you don't, no worries! I used to complain to my mum to get me at least Eau de Toilette body perfumes as body mists last like 2 seconds with me until I learned that we're supposed to spray directly on our body instead of clothes. Boy, I was so wrong! Although, I have to point out that body mists mostly contain lots of alcohol so if your skin is sensitive to it or you just prefer no-fragrance fragrance then it's better to opt for water-based perfumes or Eau Fraiche; fresh water.
The scent is fruity for the first few minutes then the rose scent just filled me subtly, not overpowering at all unlike most affordable body mists in the market that just turn me off with overly strong scent either too fruity or too floral to my liking. I usually apply the body mist first thing after going out of shower and then put on my clothes before spraying few times all over me while twirling and dancing around to make sure the mist goes on well.... just kidding! Not the dancing part though. hahaha
I know the bottle is actually pretty
lightweight
and easy to carry around but the 100ml sized bottle is still pretty big to me so I'm going to find a small bottle to transfer some of the product into or maybe I should just transfer the facial mist instead. I'll update you guys on my Instagram Stories for that.
Overall, it's a nicely-scented body mist; the fact that my body reacts negatively with fruity body products kind of worries me initially but I'm glad the bursts of fruity scents balanced well with the rosy scent so all is good! To be honest, when I first saw the word "Sparkling" on the name of the product, I was worried if there's going to be glitters or shimmers in the body mist therefore thank God, no.
This product is currently available to purchase on Althea; linked down below and if you're new to Althea and planning to purchase more than RM150, use my link (
click here!
) for
20% discount off your first purchase!
I guess that's all for now and do let me know your favourite body mist and thoughts on this body product from Althea by leaving comments down below. I'll be seeing you guys on my next post. Annyeong~
||| SHOP THE POST |||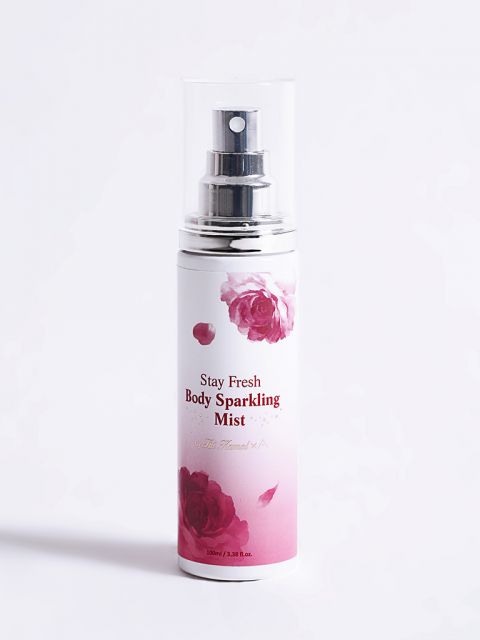 ||| Official links |||
Website | http://my.althea.kr/
Facebook | http://www.facebook.com/altheamalaysia
Instagram | http://www.instagram.com/altheakorea
Disclaimer:
Links provided are non-affiliated. This product was sent to me for review purposes and all opinions here are based on my personal use of the products.